Borders and Restrictions
I have seen some comparisons of US numbers to other countries. This is not particularly useful since many European nations are comparable in size and population to US states. This means totals are not a fair comparison. "Per capita" is better, but still not a straight forward comparison since travel crosses national borders there, with extra restrictions and prohibitions. While I do not advise it, you could jump in your car and drive to California right now. Not so in other parts of the world. As you go about your business today, being careful wearing a mask in the store, be grateful for how we are living compared to other places and how lucky we are to live in this beautiful part of the New Hampshire. ~ Steve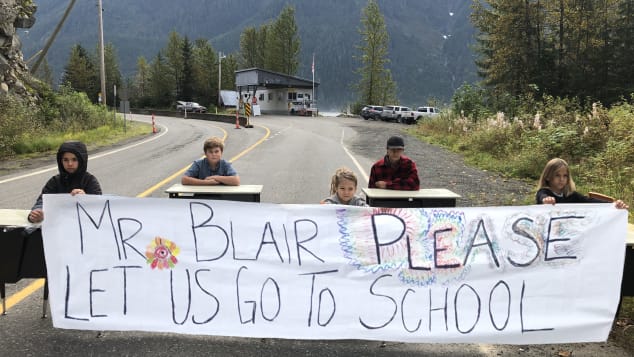 The parts of America cut off by the pandemic
(CNN) — Each evening, Point Roberts residents Steve Work and Shawna Sylvester head out for a walk. Strolling along the sandy beaches that surround the community, Work says it often feels like the American/Canadian couple has the eight miles of shoreline to themselves.This is because many of the houses in their neighborhood are empty — the owners are absent because months of coronavirus travel restrictions have made it impossible for them to reside in Point Roberts. More at https://www.cnn.com/travel/article/us-enclaves-in-canada-covid-19/index.html
The surging virus
The autumn wave of the coronavirus has reached a dangerous new stage. The number of new daily cases has risen almost 50 percent in the U.S. over the past month. The situation is even worse in Europe.
For the first time since late March, the per capita number of new cases in Europe exceeds the number in the U.S.:
From NYT –
"The virus is everywhere in France," the French president, Emmanuel Macron, said yesterday, while imposing a nighttime curfew in major cities.
The onset of cooler weather, which is driving more people indoors, seems to be playing a big role. And many people seem to have grown tired of pandemic restrictions, leading politicians — in both Europe and the U.S. — to lift restrictions prematurely.
In late June, as The Times's Mark Landler writes from Europe, residents in Prague held a dinner party stretching across the Charles Bridge to celebrate what they called — wrongly — the end of the outbreak. Italy and Spain welcomed summer tourists.
But the pandemic hasn't gone away. While treatments are getting better, many people are still dying — including almost 6,000 in India over the past week, 5,000 in the U.S., 1,700 in Iran, 850 in Spain and about 600 in both Britain and France. A widely available vaccine is still months away, even if the current research trials go well.
Amid all of this bad news, it's worth keeping in mind that some countries continue to fight the virus successfully. The per capita rate of new cases in Canada is less than half as high as it is in the U.S. In Australia and much of Africa and Asia, the rate remains near zero.
In many places where case counts are rising, political leaders are reluctant to impose new lockdowns, because the public is tired of them. But that creates something of a Catch-22: The most reliable way to reverse big outbreaks of this virus has been through strict crackdowns.
Europe records highest weekly cases; president of European Commission self-isolating
Europe records highest ever weekly Covid cases, says WHO expert
French police search officials' homes as part of coronavirus inquiry
Italy poised to be removed from England's travel corridor
Blood and tears as Israeli police storm wedding during lockdown
More at The Guardian – https://www.theguardian.com/world/live/2020/oct/15/coronavirus-live-news-paris-introduces-curfew-barron-trump-recovers-from-covid
New Hampshire 2019 Novel Coronavirus (COVID-19) Summary Report
(data updated as of October 14, 2020 – 9:00 AM)
| | |
| --- | --- |
| Number of Persons with COVID-19 1 | 9,349 |
| Recovered | 8,068 (86%) |
| Deaths Attributed to COVID-19 | 458 (5%) |
| Total Current COVID-19 Cases | 823 |
| Persons Who Have Been Hospitalized for COVID-19 | 760 (8%) |
| Current Hospitalizations | 19 |
| Total Persons Tested at Selected Laboratories, Polymerase Chain Reaction (PCR)2 | 301,619 |
| Total Persons Tested at Selected Laboratories, Antibody Laboratory Tests2 | 31,619 |
| Persons with Specimens Submitted to NH PHL | 49,004 |
| Persons with Test Pending at NH PHL3 | 360 |
| Persons Being Monitored in NH (approximate point in time) | 3,750 |
1 Includes specimens positive at any laboratory and those confirmed by CDC confirmatory testing.
2 Includes specimens tested at the NH Public Health Laboratories (PHL), LabCorp, Quest, Dartmouth-Hitchcock Medical Center, Mako, certain hospital laboratories, the University of New Hampshire and their contracted laboratory, and those sent to CDC prior to NH PHL testing capacity.
3 Includes specimens received and awaiting testing at NH PHL. Does not include tests pending at commercial laboratories.
NH DHHS COVID-19 Update – October 14, 2020
Concord, NH – The New Hampshire Department of Health and Human Services (DHHS) has issued the following update on the new coronavirus, COVID-19.
On Wednesday, October 14, 2020, DHHS announced 71 new positive test results for COVID-19, for a daily PCR test positivity rate of 0.9%. Today's results include 40 people who tested positive by PCR test and 31 who tested positive by antigen test. There are now 823 current COVID-19 cases diagnosed in New Hampshire.
Several cases are still under investigation. Additional information from ongoing investigations will be incorporated into future COVID-19 updates. Of those with complete information, there are fourteen individuals under the age of 18 and the rest are adults with 48% being female and 52% being male. The new cases reside in Rockingham (19), Hillsborough County other than Manchester and Nashua (11), Merrimack (9), Cheshire (4), Strafford (3), Grafton (2), and Belknap (1) counties, and in the cities of Nashua (11) and Manchester (9). The county of residence is being determined for two new cases.
Two new hospitalized cases were reported. There are currently 19 individuals hospitalized with COVID-
Three of the new cases had no identified risk factors. Community-based transmission continues to occur in the State and has been identified in all counties. Of those with complete risk information, most of the cases have either had close contact with a person with a confirmed COVID-19 diagnosis or have recently traveled.
DHHS has also announced two additional deaths related to COVID-19. We offer our sympathies to the family and friends.
1 female resident of Hillsborough County, 60 years of age and older
1 male resident of Strafford County, 60 years of age and older
In New Hampshire since the start of the pandemic, there have been a total of 9,349 cases of COVID-19 diagnosed with 760 (8%) of those having been hospitalized.